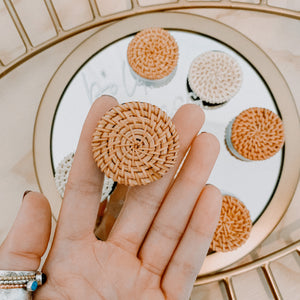 Audacious Reign Designs
Rattan Phone Pop
Sale price Price $15.00 Regular price
These gorgeous rattan pop sockets are truly a boho statement piece. Each piece is handmade and unique therefore, color/size may vary slightly.

You may choose between a White base or Black base.
***The rattan pop sockets are made with 3M adhesive with a very high rated strength, however, the case must be a material that is compatible with adhesives. Because the phone case you have can vary in material, and because the case you choose is outside my control, I do not accept returns or exchanges if your rattan pop socket does not stick to your case.
You may find it difficult to stick a pop socket with silicone, soft cases, flexible cases, rubber, some leathers, cases that contain waterproof coatings, and cases that are soft or have a texture.